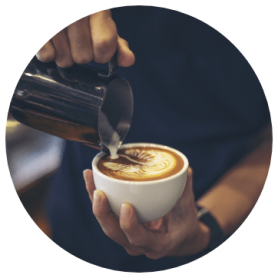 Primo Cafe's Story
We produce and pack the best coffee blends and Instant Hot Beverages since 2005 to ensure the quality that makes Primo Café Products a Jordanian excellence

2005
Kamal Natsheh, the founder, is an Engineer, opened a small shop specialized in Commerce of Italian Coffee Machines and their Belongings in Amman, this Idea has been come out to mind through his frequent Visits to Italy 
The shop took place in a 20 sqm area, BUT the dream and the ambitious was having no Limits, all goods and services were distributed directly by the owner to the customers. 

2010
The firm moved to Jabal Aljofeh, where it started to manufacture Instant powder hot Beverages and paper cups to meet the increasing demand from the customers  for our drinks through the Vending Machines, and expanded the packaging to sticks and Cups to go to reach all people levels 

2015
Primo Café established another Manufacturing Plant in Marka for roasting 
, thus increasing threefold its productive and stocking capacity, thanks to one of the most technologically updated plants in this sector which allows the production of customized private label blends, and to meet the Exporting Demand as well.

2020 up to Nowadays
Production takes place on a covered area of 1,500 sqm and processes over 5 tons of different products daily, thanks to two totally Locations of two production Lins and three packaging lines. More than 15 years of experience in this field and improvements in technology have enabled the company to reach the top-quality level in the field.